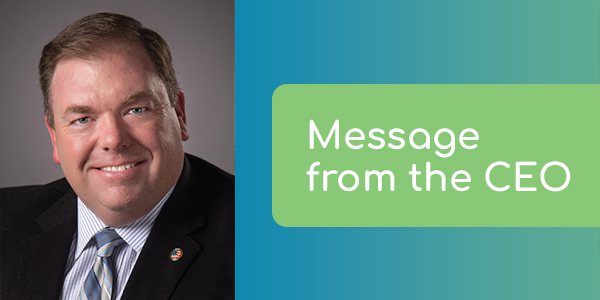 By M. Lane Crider P.E., LEED AP
It is the start of a new calendar year… fresh starts, new ideas, commitments, and perspectives…and new challenges. At the state and local level, the new year also brings new leadership in the Governor's office, in the state legislature, and in many of the state agencies and local county and municipal offices. Here at Beaver Water District our fiscal year began October 1, 2022, and so we are already into our second quarter and as I like to say…it is "full-tilt boogie"!
I don't know when I first used the phrase or from where I picked it up, but for me the connotation of the idiom works well when describing a condition of performing at an extreme level or at full capacity. The phrase is really a combination of terms, the first of which is surprisingly old. How old? How about eight centuries! The term "tilting" was first used in the 12th and 13th centuries to describe a popular tournament sport that became commonly known as jousting. Original challenges were in open fields and extremely dangerous. Without even considering the long, pointed lances used to try and knock the opponent from the saddle, injury or death to horse and rider were common from head-on collisions as the horses came together at speeds of 40 mph or more. Hence the phrase "full tilt"! Sometime in the early 1500s, a central dividing wall or barrier, referred to as a tilt, became common place to provide protection for the combatants and their mounts.
"Boogie" is a much more recent term, with origins in the late-1920s as a shortened version of "boogie-woogie". By the '40s, it referenced a style of blues music, and by the late '60s and early '70s, boogie music referred to a rock music style based on blues chords. I think the most popular use of the term boogie, however, is as a verb meaning: to dance energetically or to move quickly. So, there is your etymology lesson for 2023, but how does "full-tilt boogie" apply to BWD you ask?
The growth in Northwest Arkansas appears unrelenting, providing opportunities and challenges at every turn. Over the last five years, the demand for drinking water for our customer cities of Fayetteville, Springdale, Rogers, and Bentonville has increased at an annualized rate of approximately 5% per year. However, the last two years have seen year-over-year increases approaching 10% per year. To help put that into perspective, let us look at increasing monthly volumes. There have been 34 times in the history of the District that we have treated more than 1.9 billion gallons in one month. The first came in August 2006. The next 19 times all occurred during the summer period of June through September, as would be expected. In 2020 and 2021, however, we treated that volume for the first time in October as well. And finally, in 2022 we added November and December to the list. Monthly volumes of these levels put significant pressure on the District's infrastructure and our personnel. In the past, the late fall and winter months provided the "breathing room" to perform necessary maintenance that requires treatment processes to be taken "off-line" and it provided more opportunities for offsite training professional development. The window of opportunity for these activities is narrowing with the quickly increasing demands.
These challenges, however, present us with many opportunities! From expansion of our treatment and delivery infrastructure to furthering our water source and drinking water educational partnerships, our team is meeting the challenges and preparing for the future. They are driving strategic initiatives that will position BWD to achieve our vision of supporting the quality of life and economic growth of Northwest Arkansas by preserving the quality of our drinking water source Beaver Lake; promoting public confidence through education and outreach; and cultivating an environment of integrity, excellence, trust, and respect for our employees and customers.
This year will certainly bring more new growth and development, challenges that stress us, and successes that gird us. I wish everyone a safe and prosperous 2023, and to quote the wonderful leader, mentor, and friend Donald E. "Buddy" Wray (1937-2016), "Look forward with no fear; look behind with no regret." It is great advice when you're going full-tilt boogie!